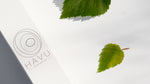 HAVU lipsticks are 100% biodegradable, which is like the best thing ever, but it's important to recycle them right. It's an easy and small thing for you to do and afterwards, nature will love you! So please, here are our instructions and facts about recycling HAVU lipsticks. 
What are HAVU containers made of? 
The black inner container is of biodegradable PLA and the exterior is made of wood. This enables you to recycle the whole package, as you can sort it into biowaste. PLA, i.e. polylactide, is an industrially biodegradable, biobased polymer. PLA does not endure high temperatures due to its biodegradability and it melts in temperatures of over 45°C. So please keep your lipstick out of too much direct sunlight! The darker side of HAVU's wooden container is of alder and the lighter of aspen. The containers are covered with a light layer of wax and the colour comes from the wood itself. Depending on the availability and the season, the wood comes from either Finland or Estonia. 
How is HAVU's container recycled? 
You can sort HAVU lipstick containers after use into biowaste. The paper sticker at the bottom of the lipstick can be placed into paper waste. The white cardboard package and the mailing board are recycled as cardboard waste. 
Please do not dispose of HAVU products in nature! We do not support littering! The package does not decompose in nature, as the inner container (PLA) is industrially biodegradable. The right place for it is the housing association's biowaste container.