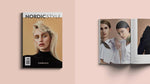 Nordic Style Mag mentioned HAVU's Lip Scrub as part of a winter lip care routine. The other products in this article were from the Norwegian Lykke by Julia and the amazing Flow Cosmetics. A good trio for your lips, we would say! 
Nordic Style Mag thinks that HAVU Lip Scrub ticks all the boxes, as our mission is to reduce the environmental pressure of the cosmetics industry on the environment.  
Nordic Style Mag is an independent fashion, design and art magazine from the Nordics.