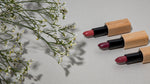 We launched three new summer shades in April which are all inspired by the Finnish summer and delicious berries. We asked our customers to try out the shades and tell us what they think about them. We always want to hear your opinions and reviews about our products and they are super important to us. Let's see what Emilia and Aamu thought about our shades!
RASPBERRY
RASPBERRY is the perfect summer shade. RASPBERRY really highlights your tanned skin and freshens up the face – it feels as fresh as eating raspberries. A cold pink that gives you a subtle shimmer when applied on your cheeks and lips. RASPBERRY is a sweet, edgy reddish pink. 
"Raspberry is the perfect colour – a natural yet delicious pink. For sure a favourite for the summer!" 
"A perfect light shade to use with some extra blusher. I put on just one light layer but you can create a whole other look by adding more.🌷" 
HEATHER
HEATHER is a purple-leaning pink with a cold undertone and a dash of glow. It's a perfect, neither light nor dark, fresh shade for every skin tone.
"The best thing about Heather is definitely its subtle glow. The purple-leaning pink can be used to add a purple glow to your lips or to create a colourful look!
"Wow, what a summer color💞. A bit of a deeper tone for summer days. I bet this looks even more marvellous with sun-kissed skin in the summer!"⁠⁠ 
BLACKCURRANT 
A shade so delicious you can almost taste it. BLACKCURRANT is a cold pinkish purple with a dash of glow. The berry-inspired shade is subtle yet fresh – a perfect cold shade for a darker skin tone. For lighter skin – a dashing shade for summer parties.
"The stylishly dark shade of Blackcurrant is a number one choice for summer evenings. I adore the softness of Havu's lipsticks and how the shades always look natural and beautiful. " 
"I immediately wanted to use this colour with some linen-coloured clothes. I am already imagining a warm summer night and a garden party full of dance and laughter✨"